Welcome to the
Tremont Turkey Festival

"Down home, where they know you by name and treat you like family

The lyrics of the famous song by Alabama just seem to fit our town. But don't take our word for it — come on over and see for yourself as we kick off summer at the 53rd annual Tremont Turkey Festival.

You'll discover that food is a huge part of our festival. From strawberry shortcakes, to pancakes and sausage on Saturday morning, to our famous grilled turkey, we have plenty of options to offer and we encourage you to try them all.

Enjoy the beautiful park as you stroll through the craft and antique booths, stop by the country store, or watch the numerous performers in the entertainment area. From the Miss Tremont Pageant, to the bed races, to the parade on Sunday afternoon, there is something here to entertain all ages. View our Schedule for a complete listing of events.

Spend part of the weekend with us and you will discover why we think Tremont is a pretty great place to live.

"...Things move at a slower pace
Nobody's in the rat race
And these days that's a special way of life..."

The Turkey Festival Needs You!

Looking for a way you can help out at the festival? Consider volunteering to work in the food line on Friday, June 8. We are often short on volunteers on Friday so we would love to have you help out on that day. Feel free to bring your family and friends along too! Simply email us and let us know when you are willing and available to help.

If the food line is not your thing, we have plenty of other places where you can help. Contact the festival chairpeople at chairmen@turkeyfestival.com for more information.

Thanks in advance for your time and enthusiasm.

Sandwiches on Sunday

When you come to the festival on Sunday, don't wait until after the parade to purchase your turkey sandwiches. We often run out of turkey sometime during the parade and, if we do, people who come to the food line after the parade end up disappointed because they have to go home empty-handed. Don't be one of them — remember to get your sandwiches before the parade.

Change in Traffic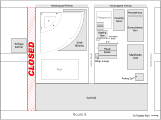 (Click to enlarge)
Again this year, Sampson Street will be closed between Route 9 and Tazewell Streets for the duration of the festival. Please use N. Locust Street or N. West Street to access the park or, even better, take advantage of our Park and Ride service.
T-shirt Day

Saturday is t-shirt day! Wear your Turkey Festival t-shirt and show your Tremont pride.

The Early Bird Gets...Turkey

Our goal is to try to have turkey available until at least 7 or 8 PM on Friday and Saturday, and at least until close to the start of the parade on Sunday, but sometimes the crowds are huge and the turkey sells faster than we expected. We hate disappointing anyone, but the bright side of this is when it happens, it means a lot of people came thru the food lines before you and our sales were fantastic, which means we raised a lot of money for the community. Our best advice – eat early. We don't want you to go away hungry.

Join the Parade

Interested in having a float or other entry in the parade? The deadline for entries is June 1st. Contact our parade chairmen for more information.

Park and Ride

Finding a parking space is easy if you take advantage of our free shuttle bus service. Simply head to the junior high school parking lot (just south off Route 9 on West Street, on the west edge of town) and ride the shuttle to the park. Shuttles run every few minutes during the following times:
| | |
| --- | --- |
| Friday | 4 - 10 PM |
| Saturday | 9 AM - 10 PM |
| Sunday | 9 AM - 6 PM |

No Dogs Allowed

The Tremont Park District ordinances prohibit dogs in the park, so unfortunately you will need to leave Fido at home.

Tremont Food Pantry - Pack the Tent

The Tremont Food Pantry will again be hosting a Pack the Tent event at this year's festival. Please bring your nonperishable food item donations to the Tremont Food Pantry tent near the Turkey Express exit at the Tremont High School on Route 9. The Tremont Food Pantry tent will be available during the following times:

Friday, June 8: 11 AM - 6 PM
Saturday, June 9: 11 AM - 6 PM


Suggested items for donation include box meals, canned soup, canned pasta, paper products (such as paper towels and toilet paper), and diapers. Monetary donations will also be happily accepted.

Thank you in advance for your donations.