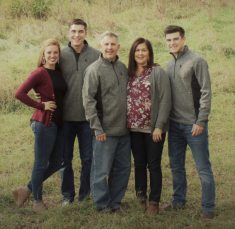 As a native of Tremont, Donnie Rice is honored to be this year's speaker for the community service at the Turkey Festival.
Donnie is a 1990 graduate of Tremont High School. He pursued a degree in finance from Eastern Illinois University where he was also a member of the men's track and field team. After graduating from EIU, he began a career with Country Financial Services in Washington, IL.
In 2002, he made a career change and began attending Bradley University to pursue a degree in special education. Donnie began his teaching career at Pekin Community High School and then returned home to THS. Donnie graduated with a master's degree in Educational Administration from Eastern Illinois University in 2009. In addition to his teaching assignment, Donnie is also the seventh-grade boys' basketball coach and high school boys' track and field coach.
When asked about his career at Tremont, Donnie says "I love the challenge of working with teens today, being able to guide them through their high school years, and staying connected with them as young adults." Outside of teaching, Donnie is currently the president of the board for WBNH and a deacon at Cornerstone Baptist Church. Donnie's true passion is sharing the good news of the gospel of Jesus Christ to others.
Donnie and his wife, Heather, have two sons. Zachary and his wife, Michalah, married in 2020 and live in Tremont. Their son, Timothy, attends Dallas Baptist University.